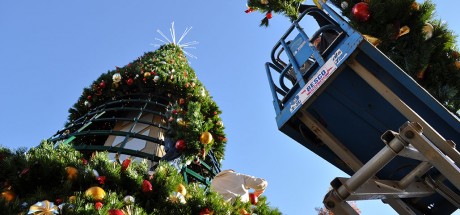 The simple act of adorning your outdoor space for the holidays is quite special, not only attracting added visitors but also entertaining them, seasoning the already festive flare of the occasion. Unique lighting, amusing props, distinct signage and signature ornamentation all add to the aura.  The choice of colors and shapes may be determined by the setting itself; yet, it should be inspired by personal taste paying special attention to the desired guest ambiance.
The transformation stage provides the titillation urging all to wonder of the end result stirred on by the hubbub of construction activity. Each step of the process animates the time, effort and teamwork needed to bring about just the right effect causing onlookers to marvel throughout the evolution. Incorporate the advance into holiday event planning.  Such was the case with Pinnacle at Turkey Creek this past November.
Designed by the Becker Group and erected through the esprit de corps of Turkey Creek's professional installation team and Becker's own Don Acker and colleague Bob Betta, the resulting 50' tree came to life over the bubbling center fountain.  Our dear friend, Darryl Whitehead, hosted the combined effort orchestrating the synergistic merging of talents.  Undaunted by challenging weather in the first days, the coalition forged onward.  Take a look and enjoy the fun!